Web Site Design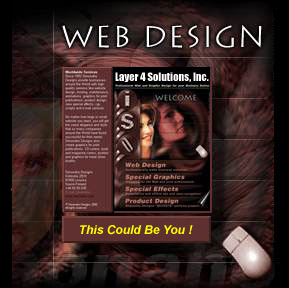 Aren't you tired of having your website look like a FrontPage template? How come your website doesn't stand out from the rest of the crowd? Do you want Cool music and sound effects added to your site? Are rookie web designers eating holes in your pocket?
At Layer 4 Solutions, Inc. Web Design is an art, not just another way to make money. The graphics are done using professional design tools. All HTML is coded by hand & with the Industry Standard DREAMWEAVER, not with mainstream WYSIWYG (What you see is what you get) tools. Our development team has over 10yrs Web Development Experience, ensuring that your final product will be pleasing to you and your audience.
Let Layer 4 Solutions set you apart today!
WEB DESIGN DETAILS:

All graphics are created with Adobe Photoshop, and Adobe Illustrator.

All HTML coding is done by hand using DREAMWEAVER HTML editor as a coding environment. The Industry Standard!

All graphical animation is done using Ulead GIF Animator and Macromedia Flash.

All Videos are done with Adobe Premiere

All Designs are created on Microsoft Windows 2000 Professional O/S platform & The Unix Platform to ensure proper migration to ALL Internet Service Providers.

All finished products are viewable on BOTH Netscape and Microsoft browsers as well as other graphical browsers by today's standards.

All completed (paid) designs become the property of the client only.
SPECIAL GRAPHICS
Layer 4 Solutions, Inc. can handle all of your Special Graphics needs.

Logos for your Business or Website

Banner Adds (Animated or Not)

Custom Graphic Headers and Footers
From Logos to Banner Adds we have what it takes to do the job right!
SPECIAL EFFECTS
Do you want special effects for your website like shadowing, DHTML Effects or Java Applets?

DHTML visual effects like falling rain or fading pages in and out

Shadowing Techniques

HTML visual effects for text
PRODUCT DESIGN
Do you have a product that needs a slogan? Do you need a visual representation of your product or service?

Slogans and Tag Lines

Visual Representation of your Product or Service using FLASH

Advertising Catch Phrases for your product
PRICING DETAILS
Most design projects are done on a project basis. Please CONTACT US for a Free quote. All Quotes include HTML design, graphics, hyperlinks, testing, and implementation. Any extensive Javascript, cgi & PHP scripting, databasing, and extensive graphics design may be billed extra.
Contact Layer 4 Solutions for all of your Businesses & Personal Computer Backup needs!