Streaming Media Setup & Services
Do you want to start your own Internet Radio Station? Does your Conventional Radio Station need to setup Streaming Media Services? Have you been everywhere to try and find out how to stream correctly and come up empty handed?
Layer 4 Solutions, Inc. STREAMS Audio & Video !!
Layer 4 Solutions, Inc. know what it takes to have a successful Streaming Solution. We have enabled many Conventional & Internet Radio Stations, to make their programs heard over the Web.
We can Setup & Maintain the following for your business:

Windows Media Streaming Server & ASX Scripting

RealNetworks Real Server & RM Scripting

QuickTime Media Server

LIVE365 Setup & Relay Servers

Add Insertion & Custom Interfaces for your Streaming Solution

Redundant Media Servers

On-Demand Content & Archiving of LIVE Shows

One Server Solution for stations under 1000 simultaneous listeners

Remote broadcast solutions

Radio Station Broadcast Automation Software such as Raduga & BTSG

Replacement of old CART Machines with PC Software Solutions

Web Cam of your studio in Real-Time not Delayed

Converting your radio station to FULLY AUTOMATED

Consulting Services for all of your streaming media needs!
Check Out the Streaming Examples below that we can provide for you!
STREAMING AUDIO SAMPLE

We are the brains behind one of the fastest growing Paranormal Talk Radio Shows on Conventional & Internet Radio. Using 6 Independent Streams with RealServer and Windows Media Player. 24hr Streaming Audio...




STREAMING VIDEO ON-DEMAND SAMPLE

A Windows Media example of streaming video that was converted and put on the web for your enjoyment.

GHOST HUNT 2

By: Kevin Stempein



STREAMING VIDEO LIVE SAMPLE

We are the brains behind one of the fastest growing Paranormal Talk Radio Shows Video Feed!. These two examples show 2 LIVE Cameras that air Mon-Fri at 10:00pm Eastern. However when you tune into them at any other time you will get the audio portion and a black or blue video screen. LIVE shows work great!
Wouldn't you love to have this in your studio?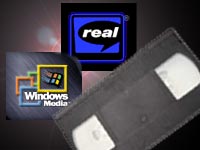 Convert Videos and Audio to Streaming Media
Layer 4 Solutions can put your Videos, Audio Programs, Radio Demos, Resumes, Portfolio, or basically anything on the Internet with on-demand streaming media technology. Layer 4 Solutions supports the major formats including Windows Media and Real Video/Audio and Quicktime.
Streaming media may be customized to target your audience whether it be via modem or broadband connections. Because of the file sizes and the quality, streaming media technologies are also feasible to put videos on CD.
This is a great way to archive and share videos to millions of users around the world.
Imagine the uses of the streaming technology. We can help you put together interactive resumes, family trees, or whatever you want. The possibilities are endless!
Contact Layer 4 Solutions for all of your Streaming Media needs!